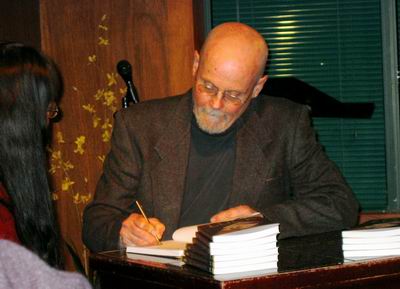 David Carpenter prefers potential readers to purchase his books at their local bookstores, but some of the titles have may have vanished from the racks.
The following titles can be ordered directly from David:
Jokes for the Apocalypse

This collection, made up of two linked novellas (Luce and Jokes for the Apocalypse), is David Carpenter's first book.


Quality Paperback $5.00
Class sets (min. 10) $4.00/book
Regular price $13.95


God's Bedfellows

This collection of stories is about a variety of people who, for good or ill, find themselves in bed. As the tales unfold, each one of these characters meets another person who is his or her opposite; thus a series of life altering discoveries is set in motion.


Hardback 1st edition $10.00
Class sets (min. 10) $6.00/book
Regular price $22.95

Writing Home

This book is a selection of Carpenter's literary and personal essays.


Paperback $5.00
Class sets (min. 10) $4.00/book
Regular price $12.95

Banjo Lessons

David Carpenter's first novel, is a portrait of the artist as a young nerd. It's the story of Tim Fisher's journey from infancy to age 25. This journey is set in mid-century Alberta, from the discovery of Atlantic Richfield Number One, the oilwell that ignited Alberta's modern history, to the heady chaos of the 1960s lived between the streets of Edmonton and the Banff Rockies. It is a very serious comic novel, the bittersweet drama of a life becoming aware of itself. It reminds us of what it was like to be young, and also, perhaps, of why we never want to be that young again.


Quality Paperback $8.00
Class sets (min. 10) $5.00
Regular price $19.95

Trout Stream Creed

As a fiction writer, David Carpenter is known for his ability to tell a good story, his sense of humour, his keen eye for detail, his love of the intricacies of language. All that is here in these poems. Playful and compassionate, engaging and graceful, filled with wit, insight, and wisdom, Trout Stream Creed celebrates the marvels of nature and the bonds of family.


Quality Paperback $12.00
Class sets (min. 10) $10.00/book
Regular price $14.95

The Ketzer

Winner of the Descant National Novella Competition. Ketzer is the German word for heretic. This novella is about a young woman named Flora, a farm girl, who returns home to her family and is invited on a deer hunt by her father and brothers. She goes along, if only to show the men in her life that she can do it. When the hunters run across the trail of a buck as big as a legend, they get far more than they bargained for. This is a classic hunting story, a love story, a wilderness adventure, a German romantic novella, and a cautionary tale about hunters and their quarry.


Ltd. Edition Hardback $20.00
Regular price $25.00
These prices include all taxes, but they do not include the cost of postage. This would be added on to the purchase price at the time of shipping.
To order directly from David Carpenter, please use the Contact link at the top of the page.